Yes, there it is, I said it.

Buy it, read it , and if you don't like it, I'll buy it from you.





Last night, I managed to steal time out of my crazy schedule to go hear my old friend Carolyn Parkhurst read from her book -- just out in paperback The Nobodies Album, at the awesome new bookstore by the East Falls Church Metro, One More Page.
Please don't read the descriptions on Amazon, or on Carolyn's website or blog . They are the reason I didn't remember to buy it until it was in paper back. Sometimes "saying what a book is about" doesn't ever convey why it should be read. I heard her read a couple chunks last night and couldn't put it down after I got home (and got the kids to bed) until I finished it.

Let me tell you that this is an intense, beautifully crafted read that is nothing short of stunning. That the interweaving of the main character's inner world and struggles with personal demons play out so perfectly in her attempt to rewrite the endings of her own personal novels (both the original endings and the new revised endings perfectly inform the action of the novel), is the beauty of how she can truly weave a tale on so many levels.

Just buy the thing. Seriously. This is one you won't regret.
Of something really special . . .
During the week of September 21-25 there are many literary events in the Washington DC area -- the week long Fall for the Book at George Mason University where Stephen King and Amy Tan are receiving awards along with many of others, as well as the weekend long National Book Festival on the Mall which is sponsors readings and activities with over 100 authors, poets and illustrators and cohosted by the First Lady and President Obama.
I'd like to invite you to something a little different.
BE THERE AT THE BEGINNING
Sunday, September 25
6:30-8:30
Shirlington Library
2200 Campbell Avenue, Arlington, VA 22206
Next to the Signature Theater
Eight alumni of the year-long Write Your Book workshop will read from their completed manuscripts. These manuscripts represent some of the best of the last 5 years and are currently unrepresented and unpublished. They include women's fiction, mystery, middle grades, and literary fiction. You will have an opportunity to hear opening pages, and meet the dedicated authors in a pleasant low stress, friendly environment (with snacks!).
I hope you can join us!


Well, it did.

I've got some things for you.

1) WRITE YOUR BOOK YEAR LONG CLASS ===I'm going to start taking registrations on my new improved ready to roll out site on May 15. Email me if you info now, but it's coming. hildiesblock at gmail dot com

2) Yes, the prompts, they are down there, scroll.

3) Whatever happened that cool Washington Independent Writer's Conference that used to happen every year? The group became American Independent Writers and the just announced this year's conference . . . Save The Date! Annual Washington Writers Conference on June 11


The annual Washington Writers Conference, AIW's signature event, will be held June 11 at The Writer's Center in Bethesda. We will be sending out more information to all AIW members on speakers, agents, panels, registration, and more. Stay tuned.


Okay AmerIndy -- we're staying tuned!



Okay and now the prompts!

1) May Day May Day! What's that mean to you? Are you in trouble? Are you a communist? A Reveler? Dancing the May Pole? Happy to bid farewell to those April Showers? Take a stab at it and write for 15 minutes!

2) A priest, a rabbi and minister walk into a bar . .. . no, but try creating a situation where three really unlikely people have a conversation about something super-mundane, but with a twist.

3) What's stuck in your craw? What's eating at you and keeping you up at night? Write it out, baby!

Okay so set some sort of timer and get to it!

--hildieblog
I know what you are thinking. How the heck did it get to be May already????
SO today, around 10am My Personal Essay online workshop starts. Last night at around 1 am, I wrote a little "lecture" on the history and definition of Personal Essay that is posted as part of today's class.
One am? Well, I wasn't sure I wanted to do it this way -- I usually get into the pool slowly in this class starting with journals and moving to essays, and then I decided to start right off with essays -- and then I had a few false starts. I reread it just now and it's remarkably coherent -- and honestly I'm starting to wonder if little House Brownies wrote it while I slept on the keys last night.
I've never posted a lecture from a current class before, but I thought enough people wonder how these things work, or if you could get a "true Hildie" experience online -- and I thought maybe this would answer those questions.
So without further adieu,
the House Brownie approach to the History and Definition of Personal Essay, Part 1.


So much of what I am about to say, I learned from the Introduction to Phillip Lopate's bookstop of a book The Art of Personal Essay. I've loved this book for a long long time (the pages are falling out of my copy) and used it for courses since the late 90s.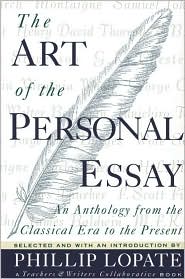 Personal Essay dates back to the Greeks, Plato and Friends. During this time it was defined that all ESSAY fell into two categories -- The FORMAL and the INFORMAL.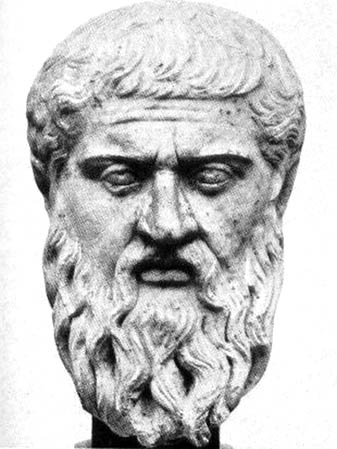 A FORMAL ESSAY was one that followed a specific plan and used rules of logic, like the ones you might learn in a logic course that has a lot of p's and q's in it. A scientific experiment, a math proof, an academic paper. A formal essay on a topic, with a thesis or hypothesis, a methodology and a conclusion. It's serious, long and has "dignity."

You know, an essay.



The INFORMAL essay does not follow those rules and as we all learned around the age of 12, was an essay where you could use "I." It can ramble. Use humor. Be self-revelatory.



But there is more than that. In the 1500s, Frenchman Michel de Montaigne more formally defined that Informal or Personal Essay, as a conversation within ones head, where one struggles with a moral issue, discussing it and hashing it out in search of an answer. Enter terms like Multiplicity, Duality of Nature, and "entering a dispute with onesself."


This gets us closer to what we know today as a Personal Essay.

And you are saying, "What about David Sedaris?" He doesn't seem to struggle with moral dilemma. He writes personal essays. He's funny! Have you heard the one where he's a department store elf at Christmas! (here's the link for those uninitiated . . . . http://www.npr.org/templates/story/story.php?storyId=98669879





Yes, yes, yes. I'm getting there. Be patient.

At the same time -- you enter a contract with your reader -- you "take off your mask" or reveal certain things -- embarrassing, surprising things. You gain that readers confidence in your confessions through this conversational manner (sounding more like Sedaris?).



This "honesty" then, paves the way for an exploration of a situation or topic. By being so honest, admitting even that the writer is capable of some evils -- being lazy, insensitive, jealous etc, by a behavior they are not proud of -- it allows the reader to then understand them with sympathy -- and to feel their plight as they work through a moral dilemma or surviving an affront without the appropriate reaction.



The goal then being two fold in my mind (I diverge from Lopate and his colleagues at this point and head off on my own trajectory) --

*"Writers" by my own definition, write to put the "externalia" into perspective, to understand that which life has thrown their way.

*Personal essay then serves as one of the best ways for a "Writer" to write -- to get down that which is stuck in his or her literary "craw" and to write through the scene of the crime and struggle through words to put it into a manageable, mold-able perspective.



AND YET -- perhaps one of the most important things to remember about Personal Essay is then, that it follows one basic rule that fiction follow as well -- the main character (in this case THE NARRATOR, aka YOU or THE WRITER) must change from the beginning of the essay to the end. The PROCESS of working through the event, the issue, the morality, or just seeing an event from childhood through adult eyes for the first time -- it must have the effect of CHANGING the narrator, so that s/he does NOT DOES NOT DOES NOT have the same world view at the end, as s/he did at the beginning, but has grown or had a subtle internal shift. Sees the world through glasses of a different tint. A new lens.



Got it?



(well, it's a beginning).




--hildieblog


PS if you want to join the class, I believe there are 3 seats left. Contact the good folk at www.writer.org --- also there are seats left in my STRUCTURE YOUR BOOK TOMORROW, April 9, 9:30-1:30 in Arlington.

So, the next two Saturdays I'm busy -- how about you?
I have a new section of STRUCTURE YOUR BOOK through the Writer's Center (in Arlngton) on Saturday, April 9th, starting at 9:30. Bring a lunch! Bring questions! Bring your "book jacket" description of that book you want to write and I'll help you get all those ideas down into some sort of order!
Information and Registration at
How2 Structure Your Book
www.writer.org
ALSO -- SATURDAY April 16 --
CONVERSATIONS AND CONNECTIONS RETURNS!
This incredible one-day $65 workshop is hosted by the lit mags, Barrelhouse, Baltimore Review and Potomac Review and housed at the Johns Hopkins campus down by Dupont Circle.
Break out sessions, Steve Almond (My Life in Heavy Metal, and others) as keynote, and the every popular, seriously elucidating SPEED DATING with literary magazine editors. Nothing like seeing their faces and hearing what they REALLY think.
$65 includes a book, a lit mag subscription and one speed dating ticket. Seriously -- what else were you going to do be doing?
Click here for more info or to register!
And, anyway, you'll still have plenty of time left for some

:) --hildieblog

PS -- Still seats available in Tuesdays, 10:30-1pm class in Arlington -- "So you want to be a Writer" -- learn more at www.writer.org
I guess I had to re-learn what we all have to re-learn over and over again. If you make yourself too busy, you don't have time for everything. DUH. Things you want to do, they take time. And you can't just steal time. You can't invent time. You can only trade it.
But that's not helping you!
I have a lot to tell you about -- so stop by over the next several days and hear about new classes, the April 9th super affordable conference in DC Conversations and Connections (and why you should go), and my thoughts on these people who are getting rich skipping out on finding an agent and a publisher -- all sorts of good stuff.
But first, the PROMPTS --
You know the drill, go find your timer, dust it off (or yeah you can use your shiny newish IPhone 4 after it drops the call) -- pick one and write something brand new!
1) A fool and a wise man. 'cept it turns out they are the opposite of what you'd expect.
2) Green.
3) Wind. A new wind blows. The weather vane creaks. The wind shifts to the west.
Enjoy. And stop back tomorrow for more good stuff.
And, for those who are wondering, registration for NEXT YEAR's Write Your Book workshop, the year-long one, opens on May 1. Last year, it also closed on May 1. $100 holds your seat.
Hildieblog
I had abandoned the blog for the winter. That's the truth. Now like the proverbial _enter proverbial spring image here_ I'm springing back.
Current Location:

at the keyboard

Current Mood:

artistic

Current Music:

Busy, Busy, Busy from Philadelphia Chickens
10. Sign up for a conference. Heck AWP is in DC this year! www.awp.org
9. Make a date to write with yourself.
8. Buy some shoelaces. Tie your leg to the chair.
7. Discover the wonders of Dr. Wicked's Write or Die at drwicked.org
6. Write one new sentence on Wednesday that has nothing to do with anything.
5. Explore what LEECHBLOCK can do for you. It can block web sites for periods of time or just if you've been on too long. Oh yes. They know.
4. Tell someone about your writing project.
3. Offer to send that person something you've written by "x" date, that you haven't written yet!
2. Take a workshop!
1. And the number one way to get writing? Write me and let me know how it's going!
Happy New Year!

--Hildie

PS Yes, I have a New Years Res workshop in Arlington. It starts on Tuesday, Jan 11. Also one online that starts later in January. Check them out at www.writer.org




Top 10 ways to get you writing this year:
Just a note to touch base with everyone. I hope are still exploring your writing selves! Tonight is the longest night of the year. After that, days get longer and nights shorter -- and for many the writing will pick up pace again.
Use this darkness to let your creativity flourish. Make plans for 2011 to make the best year yet! Take some time and set out some real concrete goals for 2011 for your writing successes -- base them on what is possible and "real" -- a number of pages or minutes that can realistically accomplish. No one has every had success "writing more" because no matter how much you write -- it will never be enough -- so give yourself an end point that you can reach!
To support that endeavor, I am offering once again the New Year's Resolution Workshop in Arlington -- through the Writer's Center. It meets Tuesdays 10:30am-1pm for 8 weeks starting January 4th!
I will also be offering an online fiction workshop that starts in late January through the Writers Center. Check them out at www.writer.org.
Prompts? Did you want prompts?
1) write about a holiday meal
2) it's 10 minutes until midnight. what will happen at midnight?
3) dark. muse about the word "dark," the idea of "darkness."
And keep me posted! I love hearing your writing stories!
Hildieblog
Greetings Writer-folk and a very happy holidays to all!


You can get a gift certificate for:

*a session with Hildie to jump start writing ($85)
*a series of sessions to get you to the next level! (3 sessions for $175)
*help with admissions essays ($100)
*a 100pp eval of a novel or memoir ($150)
*a deposit for a seat in my year long class ($100)

Email me at hildieblockworkshop@yahoo.com for more info!

--hildieblog

PS have you registered for AWP yet? Don't forget!
Hildie Block's Workshop is happy to announce that we have holiday gift certificates available!
WriterFolk,
It's November 1 -- the first day of NaNoWriMo -- that crazy 30 days when people all over the world try to write a 50K novel.
Inspiring, like running a marathon, but a bit daunting. Plus both make my joints hurt thinking about them.
Also, it's November the window of sending out for 2010 is coming to close. Also the year and your chance to make those New Years Resolutions come true.
Lots to think about.
Get writing.
Here are the prompts.
*"A leaf crunch" (is it menacing or playful?) is how this story starts. . .
* Contemplate on life cycles, starting with deciduous trees. Is a barren tree sad?
* In the Ukraine -- a woman gives a man a pumpkin when she is turning down his proposal. How can cultural differences lead to comedy of errors?
Get writing folks!
--hildieblog!